One big reason to visit Juneau? The food. Now, we aren't just talking about a few good restaurants here and there. We're talking about a food paradise filled with ingenuity, sustainability, and, most importantly, absolutely delicious options to put in your mouth.
So, if you're looking for a city with an inspiring food scene (and beautiful views on the side), Juneau is your next destination. The food in Juneau can't be beat (and the drinks are pretty great, too).
Read on to discover Juneau's epic food businesses to explore on your next Juneau vacation.
Barnacle Foods
You probably wouldn't think one of Spongebob's favorite foods could lead the way to sustainability. But, for Barnacle Foods, kelp is the future.
Kelp? Do you mean the seaweed? Yes. Here in Alaska, bull kelp lines our coastlines, protecting marine ecosystems by balancing the natural pH of the ocean.
Founding Juneauites Matt and Lia recognized Alaskan kelp's incredible potential as an alternative food source of the future. So, they got creative. Thus, the birth of Barnacle Foods and its amazing lineup of kelp pickles, crisps, sauces, and more. 
While their products are delicious, what really makes Barnacle Foods the coolest is how it pays homage to Juneau's land and history. Historically, our land has long been stewarded and cared for by the indigenous Tlingit Peoples. By utilizing a local natural food source and practicing sustainable kelp harvesting, Barnacle Foods brings us back to the low carbon footprint, circular economy approach that Juneau's native peoples have always promoted. Pretty awesome, right?
In Bocca al Lupo
Picture this – you spent a gorgeous day hiking and wandering back to your hotel room at the Silverbow. After a quick nap (or coffee), you're ready for dinner. You follow the scent of pizza, leading you right downstairs to In Bocca al Lupo. After pizza, pasta, and all the delicious homemade dessert, you suddenly find yourself strolling the streets of downtown Juneau, staring at the moon with a familiar Dean Martin tune stuck in your head…
Romanticism aside, Alaska is the pizza place. More precisely, In Bocca al Lupo in Juneau is the pizza spot. Just trust us – you'll be saying thank you after your first bite of this joint's sexy Neapolitan pizza (or anything on their menu that is).
Owner Beau Schooler is one dedicated guy who impresses us with his wizardly seasonal menu specials, not to mention his baked goods (because we always have room for cake after all the pizza and pasta). That said, we weren't a tad bit surprised that Food & Wine named it the best pizza in Alaska.
Hungry yet?
Chef Stef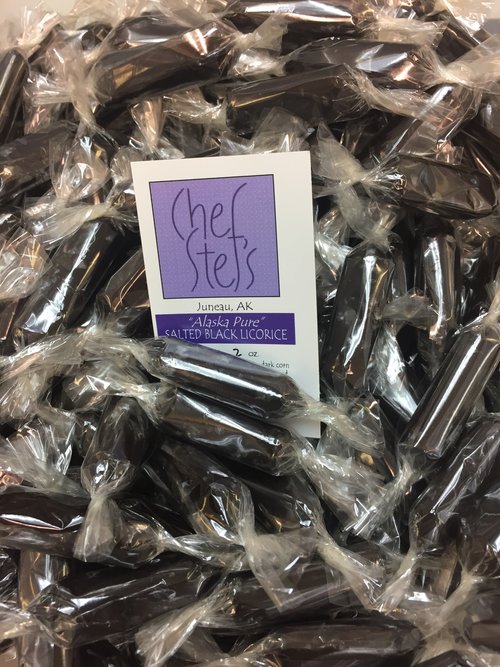 Homemade baked goods are always the best. And, nothing makes us happier than walking into a local coffee shop and seeing Chef Stef's goodies. Her treats are straight from a kitchen located in heaven.
New York native turned Juneau local – Chef Stef has been spoiling us with her masterful baking skills for the last decade. We are so grateful to have her – everything she makes is hard to resist, especially since there's something to be enjoyed nearly every time of day. Her granola is addictive and the perfect hiking snack, while her toffee sends waves of childhood nostalgia through your brain that you didn't see coming.
But, if a single food could solve world peace, it would surely be Stef's shortbread. It's pure buttery heaven. This sinful shortbread (along with her other lovely baked goods) is available for pick up via her website and can be found in shops around Juneau (like Panhandle Produce and Juneau Artists Gallery)! 
Amalga Distillery
What's food without booze? It's hard to talk about food without mentioning what you're drinking with it (or before… after…)
Amalga Distillery produces spirits infused with Juneau's character. Their Juneauper Gin is an elixir that brings Juneau's magical land into sippable form. Its features herbs that have long been native to Juneau, cultivated and cherished by our native peoples.
One way to experience these high-proof flavors of Juneau is at Amalga Distillery's cozy tasting room. With cocktails and spirit samples to savor, it's the ideal spot for a good cheers to your trip to Juneau. And, don't worry if their selection inclines you to have another drink – the tasting room is conveniently in downtown Juneau, steps away from the best restaurants and bars.
Devil's Club Brewery
Juneau is for beer lovers, we can promise you that. It's hard to get bored of Devil's Club Brewery's lineup of brews that always keep us coming back for more.
Concocted by 3 Juneauites, Devil's Club Brewery is quite the fun and funky brewery. And, that's why we adore it. They're constantly rotating their brews, which keeps you lingering at their tap room, making friends, and having a ball.
But, wait – there's more! Devil's Club Brewery brings the heat in the kitchen with its food menu. It's short, simple, and scrumptious. Plus, they have pizza nights every Wednesday. How can you beat artisanal pizza AND beer? Quite impossible.
We have to say sorry now for making you hungry. But, truly – we aren't that sorry. Juneau is an epic food city, built on creativity and sustainability. We're proud. So, don't be shy to visit Juneau and treat yourself to an extraordinary food experience.