Nestled in the heart of Alaska's majestic capital city, downtown Juneau is a vibrant hub of cultural exploration, teeming with rich history and artistic marvels. Among the myriad attractions, the Sealaska Heritage Institute stands tall as a beacon of Tlingit heritage and artistic expression.
Within its walls, visitors are treated to a treasure trove of indigenous art, including the remarkable works of Crystal Worl, a talented Tlingit artist. Let's embark on a journey through downtown Juneau and delve into the captivating art and cultural experiences it has to offer.
Sealaska Heritage Institute: Preserving Tlingit Culture
At the forefront of preserving Tlingit culture and promoting its significance, the Sealaska Heritage Institute serves as a cultural epicenter in Juneau. This esteemed institution is dedicated to perpetuating the art, language, and traditions of the Tlingit, Haida, and Tsimshian peoples. Visitors are invited to immerse themselves in a wealth of exhibitions, workshops, and performances, all aimed at fostering a deep appreciation for Alaska Native heritage.
The Enigmatic Artistry of Crystal Worl
Within the Sealaska Heritage Institute, one finds the awe-inspiring works of Crystal Worl, a Tlingit artist whose talent has captured the attention of art enthusiasts worldwide. Worl's art is a manifestation of her deep connection to her indigenous roots and a profound reverence for nature. Through her pieces, she bridges the gap between the traditional and the contemporary, infusing Tlingit iconography with vibrant colors and modern interpretations.
The Elizabeth Peratrovich Mural
One remarkable mural created by Crystal Worl pays homage to Elizabeth Peratrovich, a pioneering Alaska Native civil rights activist. This captivating mural celebrates Peratrovich's instrumental role in the passage of the Anti-Discrimination Act of 1945, which prohibited racial discrimination in Alaska. Through her artistry, Worl honors Peratrovich's indelible legacy, inspiring viewers to reflect on the power of advocacy and the fight for equality.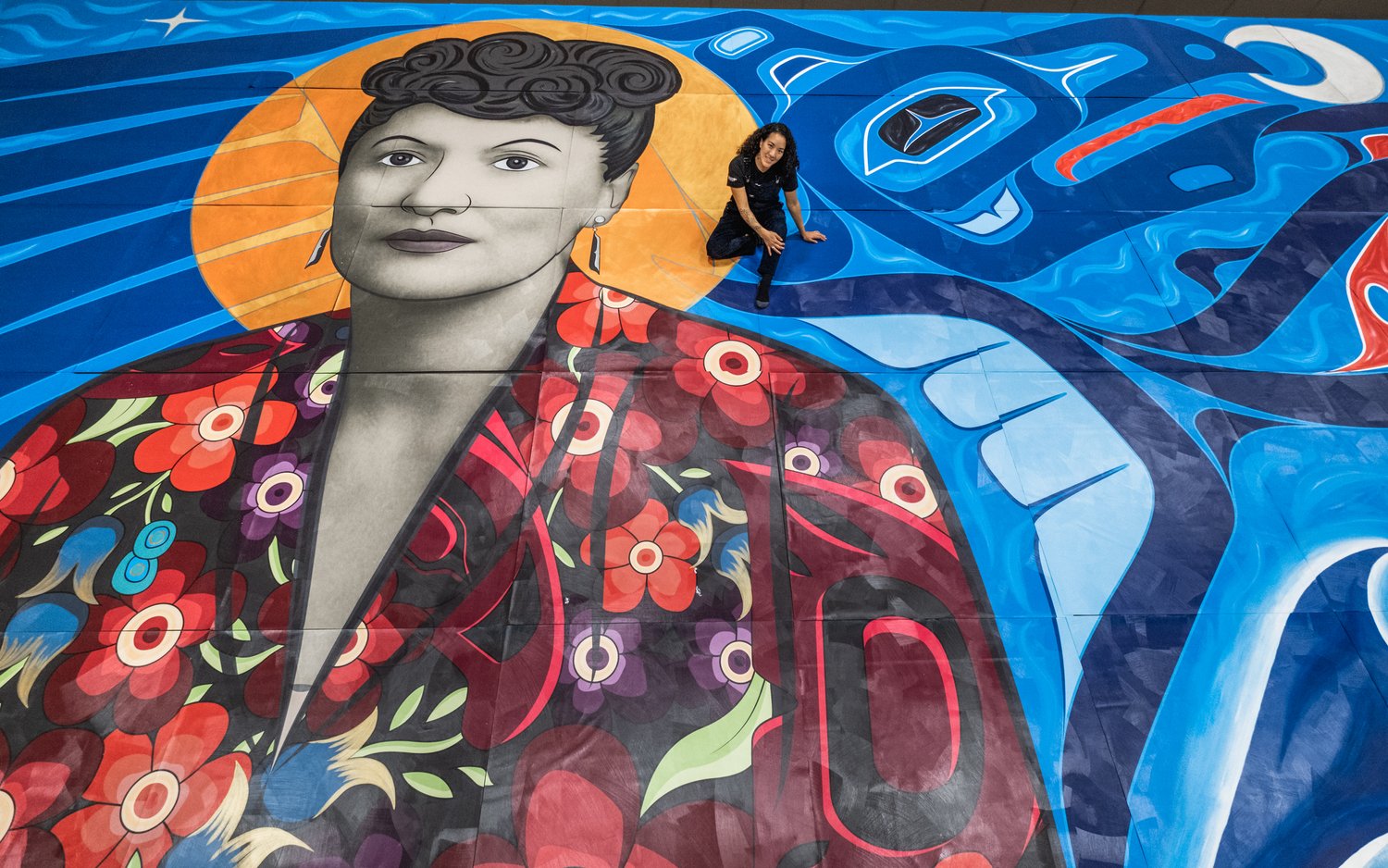 Sky's the Limit
Growing up near the shores of Juneau, Crystal was used to seeing Alaska Airlines fly over the mountains into her hometown. She says she dreamed of having her artwork displayed on a plane for years. That dream is now a reality.
"Every time I looked at an Alaska plane, I couldn't help but visualize the salmon being in formline, or having some sort of design that represents identity. I can't help but look at things and see how to Indigenize them," says Crystal.
Crystal's latest masterpiece: Xáat Kwáani (Salmon People). This is the first aircraft in the history of any domestic airline to be named in an Alaska Native language and to depict the ancestral importance through Northwest Coast formline art.
Exploring Downtown Juneau
Beyond the Sealaska Heritage Institute, downtown Juneau beckons with a plethora of attractions and activities. A leisurely stroll down Franklin Street unveils a tapestry of charming shops, art galleries, and eateries, where local flavors tantalize the taste buds. The lively hustle and bustle of Marine Park provide the perfect backdrop for live music performances, festivals, and community gatherings.
Engaging with Tlingit Culture
Visitors seeking a more immersive experience can engage with Tlingit culture through workshops and demonstrations offered by the Sealaska Heritage Institute. From learning traditional weaving techniques to witnessing captivating dance performances, these opportunities provide a deeper understanding of the rich tapestry of Tlingit traditions and customs.
Unforgettable Experiences Await
The magic of downtown Juneau lies not only in its captivating art scene but also in its proximity to nature's wonders. From embarking on breathtaking glacier hikes to witnessing majestic whale migrations in the nearby waters, the region offers unforgettable Juneau adventures at every turn. Immerse yourself in the natural splendor of the Mendenhall Glacier or set sail on a scenic wildlife cruise to fully appreciate the awe-inspiring beauty that surrounds Juneau.
Conclusion
Downtown Juneau is a captivating destination that effortlessly blends rich cultural heritage, artistic brilliance, and breathtaking natural beauty. The Sealaska Heritage Institute and the remarkable works of Crystal Worl stand as testaments to the indomitable spirit of the Tlingit people and their profound contributions to Alaska's vibrant tapestry. So, whether you're a lover of art, history, or nature, downtown Juneau beckons.